Usage
The following diagram covers the main tracks CIF users are taking depending on their origins and needs. The usual progress is as following:
First contact > UNIL account creation and CIF registration > Project evaluation > Training > Resource booking > Acquisition > Analysis > Billing
Please note the three possible acquisition workflows:
| | |
| --- | --- |
| Autonomous | The user is trained to work on his own on the instrument he or she needs. Support is available during office hours. |
| Assisted | The user works on a complicated project and is unable to work alone, or he or she needs some custom equipment to be adapted for example. The local manager will assist him after agreeing on terms and conditions. |
| On contract | The user does not want or can't take part to the acquisition and or analysis. He or she ask the CIF to do this work on contract. Details have to be discussed with the facility coordinator, Jean-Yves Chatton. |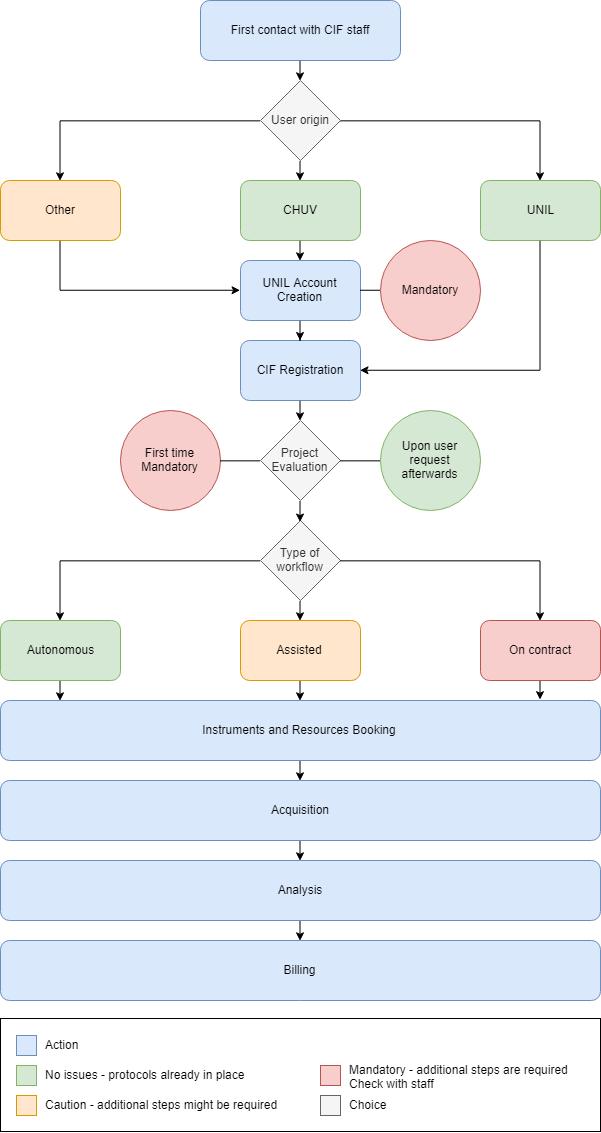 Fees
Fees and hourly rates are subject to changes. For a full list of our fees, please contact us.
The CIF platform currently doesn't support week-end or night-time discounts.