Machines Available
Disclaimer
The system might be completely reinstalled without prior notice, so do NOT leave any data on the machine. The CIF will not be held responsible for any data loss.
CIFB-PRO-01
General purpose workstation
Imaris
CellProfiler
QuPath
ImageJ/Fiji
Other software on demand – please ask Yannick Krempp for any special requests.
Specifications
intel Core i73930K 3.20 GHz
32 GB RAM
930 GB SSD
2.7 TB HDD
GPU AMD Radeon R9 200 series
1GB Ethernet
CIFR-PRO-01 (new)
Dedicated Imaris workstation
Full Imaris license with all modules and Clearview deconvolution (exclusive to this workstation)
Fiji
Matlab
Python
Specifications
2x Xeon GOLD 3.6GHz 8 cores
256 GB RAM
6.4 TB NVME SSD
12 TB HDD
GPU nVidia RTX 6000 24GB
10GB Ethernet
Booking
Please log in using your UNIL credentials like you would book any CIF instruments.
Attention : The new workstation dedicated to Imaris (description above, please scroll up) is CIFR-PRO-01 (second machine on the right in the booking system)
Remote access procedure
You need to be a registered CIF user to access this service.
Book the workstation using the booking system below (see remarks)
Make sure to authenticate yourself against UNIL's firewall (https://web-auth.unil.ch/)
Then connect to the remote workstation using your Remote Desktop Connection client (built-in or via the app)
Remarks:
Detailed instructions on remote desktop connections can be found here: https://cif.unil.ch/cif-wiki/how-to-use-remote-desktop-connection/
Make sure to use the correct machine name (as mentioned in the booking system) e.g. CIF

B

-PRO-01.ad.unil.ch or CIF

R

-PRO-01.ad.unil.ch
If you try to use the machine while someone else is still using it, you will have to wait for his/her approval (the user will see a dialog box). If there is no feedback, this user's session will be closed automatically after a few seconds and you will be able to open a session.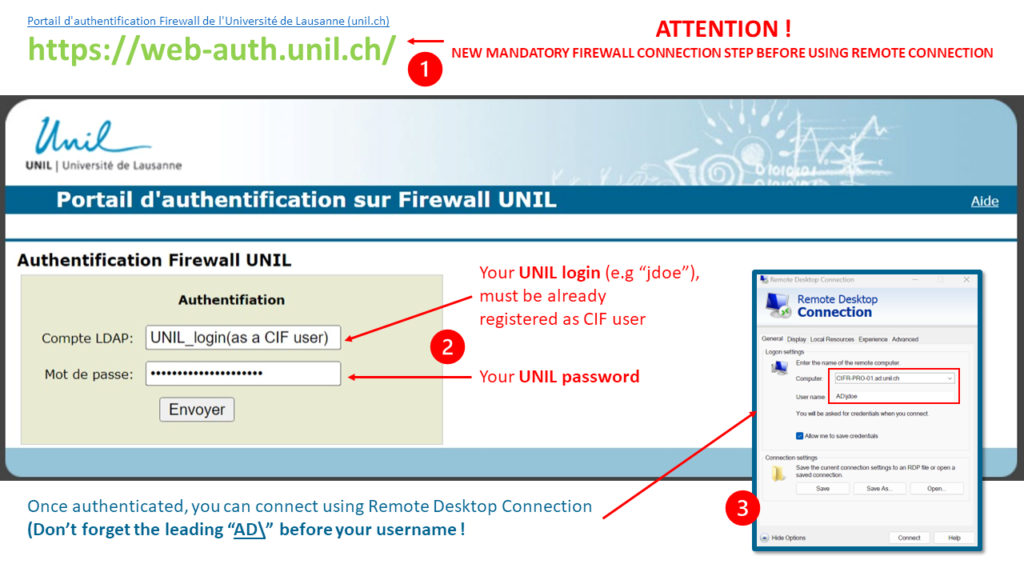 More info on TOP of the this page
Attention ! Do not use the booking page outside of this website (by bookmarking it for example), you will miss important information and updates and you might end up with a broken link.