This page compiles the list of the image analysis and processing software currently installed and supported in at least one of our antennas.
Bitplane Imaris
Description
Imaris is a commercial 3D Visualization and analysis program. It allows to reconstruct 3D surfaces, detects cells and spot-like objects, trace filaments, and provide statistics and classification.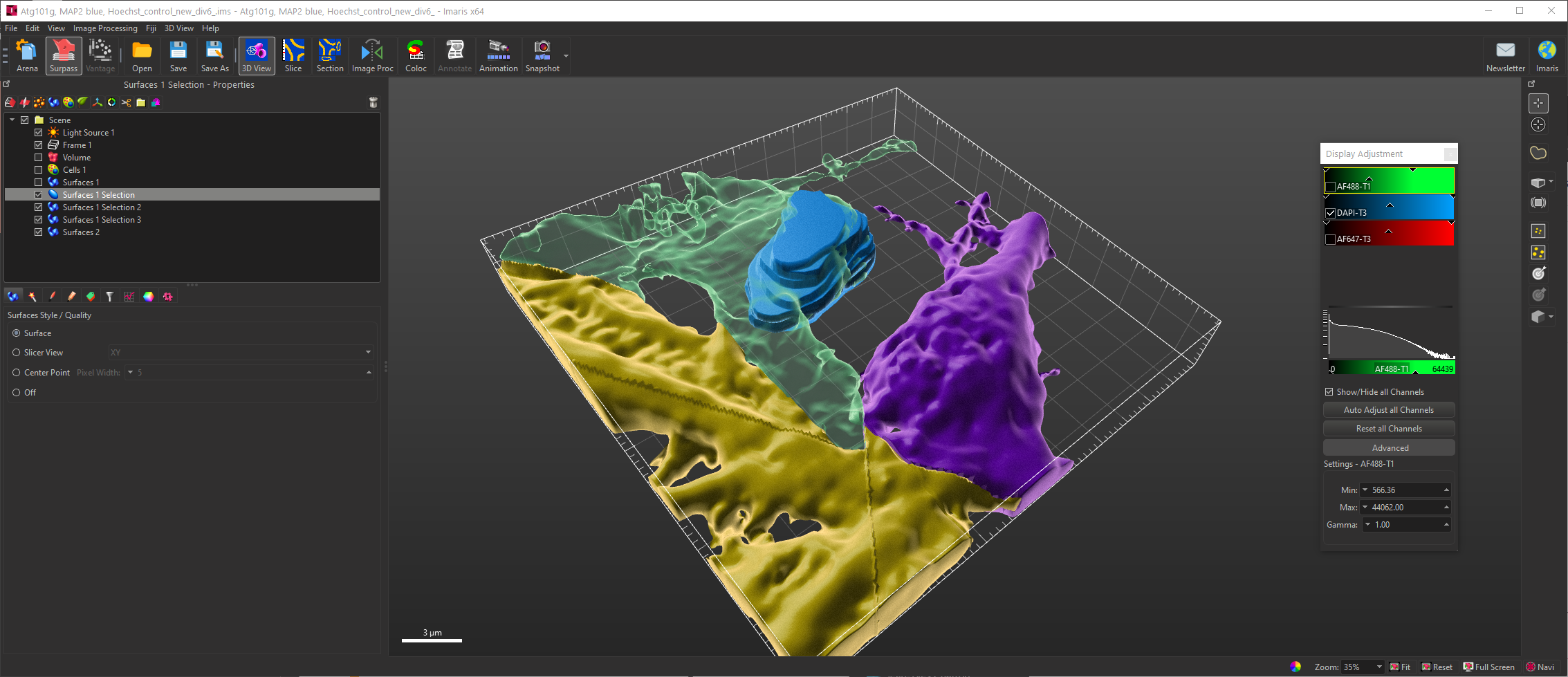 Availability
Here are the modules currently available at the CIF :
Last update : 11/03/2022
Module


Total


Staff

Bugnon

Dorigny

Epalinges

Agora

(EMF)

Imaris-Core

6

0

2

1

1

1

1

Imaris-Cell

3

0

1

1

0

1

0

Imaris-Measurement_Pro

6

0

2

1

1

1

1

Imaris-Track

2

0

1

1

0

0

0

Imaris-XT

2

0

1

1

0

0

0

Imaris-Filament_Tracer

2

0

1

0

0

1

0

Imaris-Coloc

4

0

1

1

1

1

0

Imaris-Vantage

2

0

1

0

0

1

0

Imaris-Batch

2

0

1

0

0

1

0

Possible Workstations

4

CIFA-STA-DES-00
CIFB-STA-DES-00

CIFB-PRO-01 (Remote workstation)
CIFB-PRO-04
CIFB-PRO-05

CIFD-PRO-04
CIFD-PRO-05
CIFD-PRO-06

CIFE-PRO-03

CIFA-PRO-01
CIFA-PRO-02

WORKSTATION1110
WORKSTATION1214

Imaris-Floating_License_Server

1

 

CIF-LIC-SVR

 
 
 
 
Official website
Link to the product: https://imaris.oxinst.com/
Imaris Stitcher
We also have one license of Imaris Stitcher available for creating mosaics from large 3D datasets. It is currently availbale at the CIF Bugnon.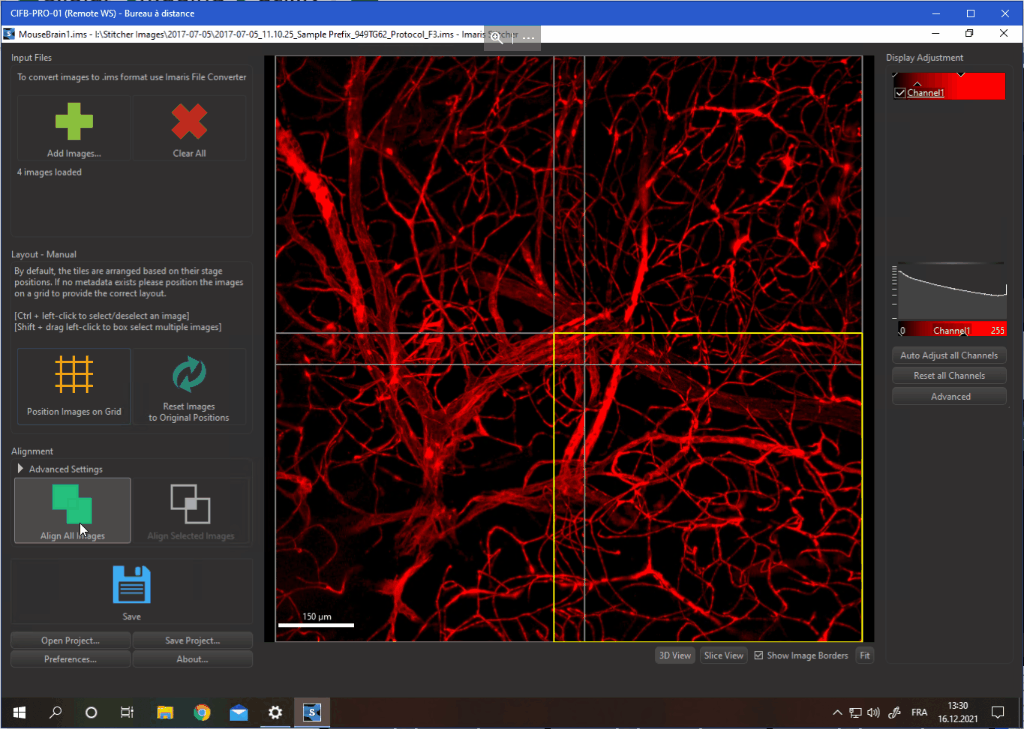 ---
ImageJ / Fiji
Description
Fiji and ImageJ are a free and open-source general purpose bioimage analysis program. It's the go-to toolbox for any serious microscopist.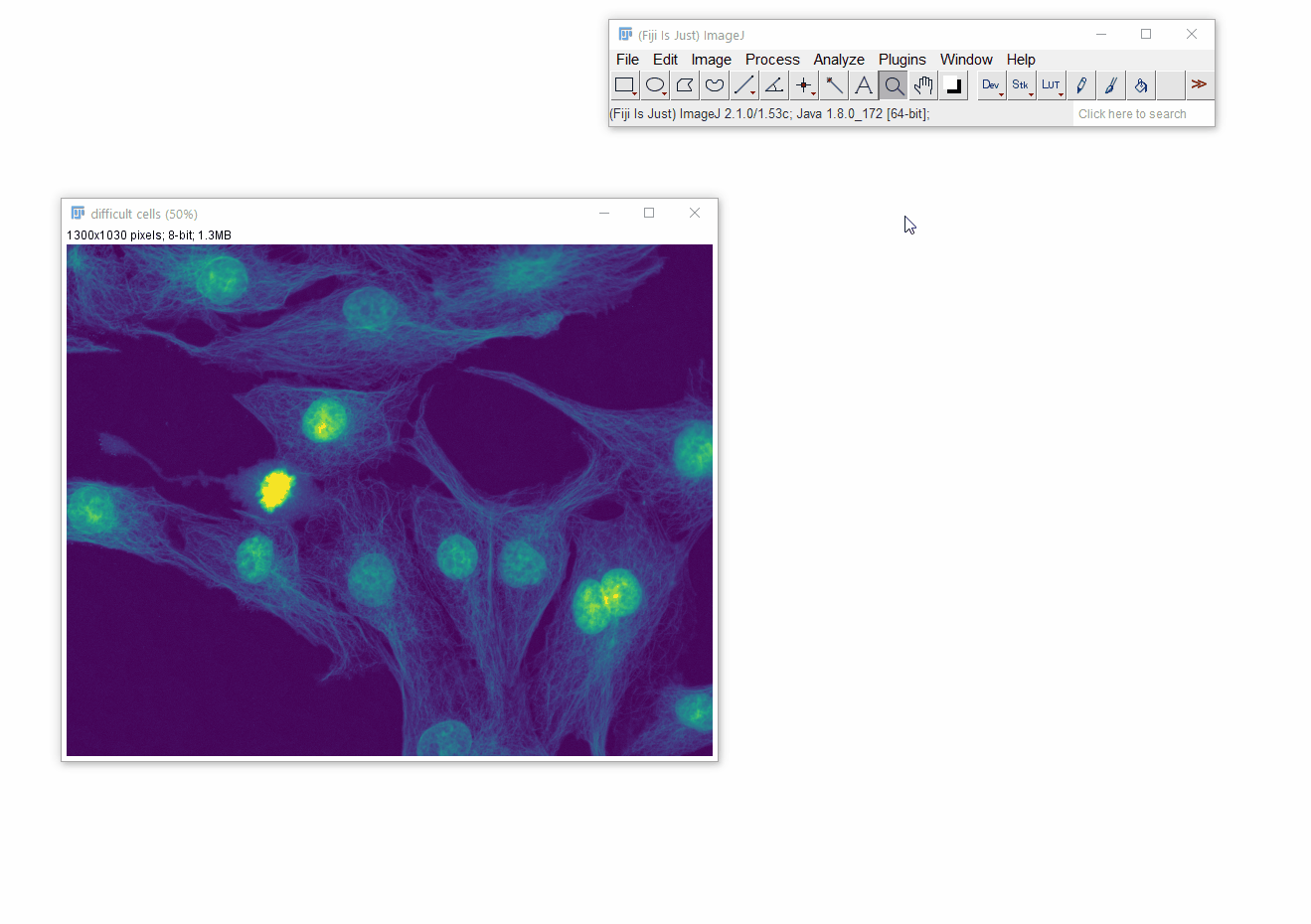 Availability
Fiji is installed on every CIF workstation.
Official website
Link to the product: https://fiji.sc/
---
Nikon NIS-Elements
Description
NIS-Elements is the offline version of the image acquisition software from Nikon, driving every instruments of the same brand.
Considering the size and complexisity of the data coming out the spinning disks, this software is the best suited to deal with Nikon's native file format, .nd2 files.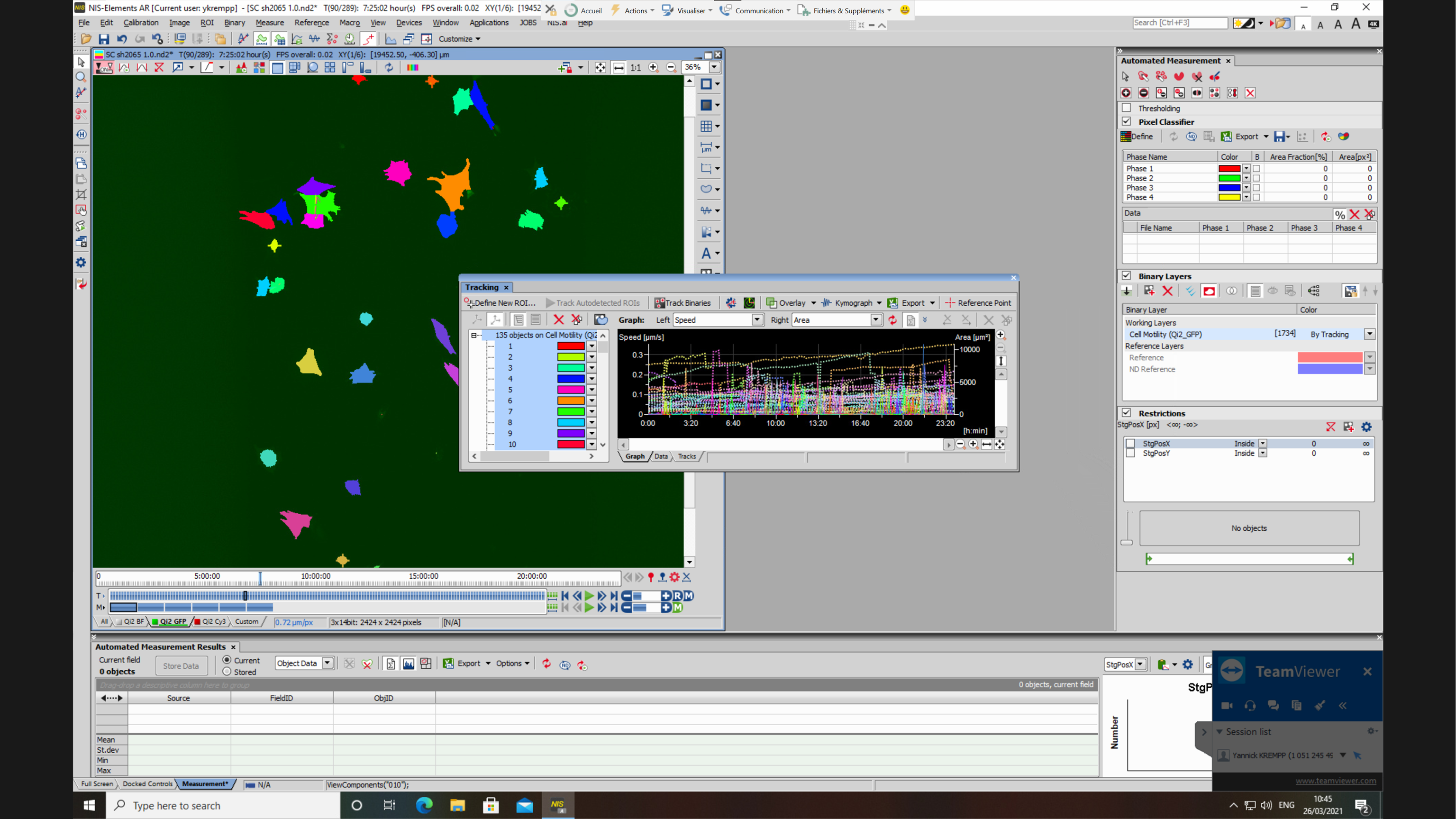 Availability
NIS-Elements is installed on every workstation at the Agora, Bugnon, or Dorigny site. We have a pool of 3 floating licenses shared across all these sites.
The optional modules available are :
EDF : Extended Depth of Focus, create a focused image from a Z stack.
CA FRET : Calcium and FRET dedicated image analysis modules
3D Tracking : Object tracking across time in Z stacks
JOBS Viewer : View and edit JOBS automation code
General Analysis : Procedural (top to bottom) module for simple analysis routines (threshold, mask, filter, measurements,…)
GA3 : General Analysis 3. Node-based analysis builder. Connect and combine processing nodes to build complex analysis workflows.
Official website
Link to the product: https://www.microscope.healthcare.nikon.com/products/software/nis-elements
---
Zeiss Zen Desk
Description
Zen Desk is the offline version of the Zen Blue image acquisition software from Carl Zeiss, driving every instruments of the same brand.
You can classify regions using a pixel classifier and create charts and customizable result tables.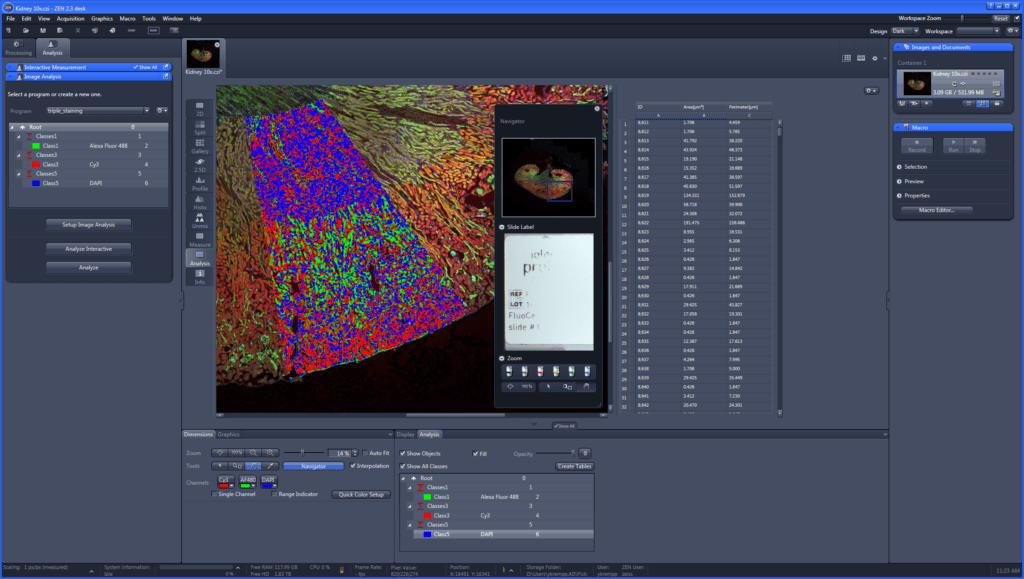 Availability
The offline Zen desk software is available on the Axioscan Analysis Workstation, next the the Axioscan slide scanner, at the Bugnon campus.
This version has the following modules enabled :
Measurement
Image Analysis
Extended Focus
Macro environment
Advanced Processing
Official website
Product page: https://www.zeiss.com/microscopy/int/products/microscope-software/zen.html
---
SVI Huygens Essential Suit
Description
The Huygens Essential suit is composed of several tools revolving around the central theme of image deconvolution.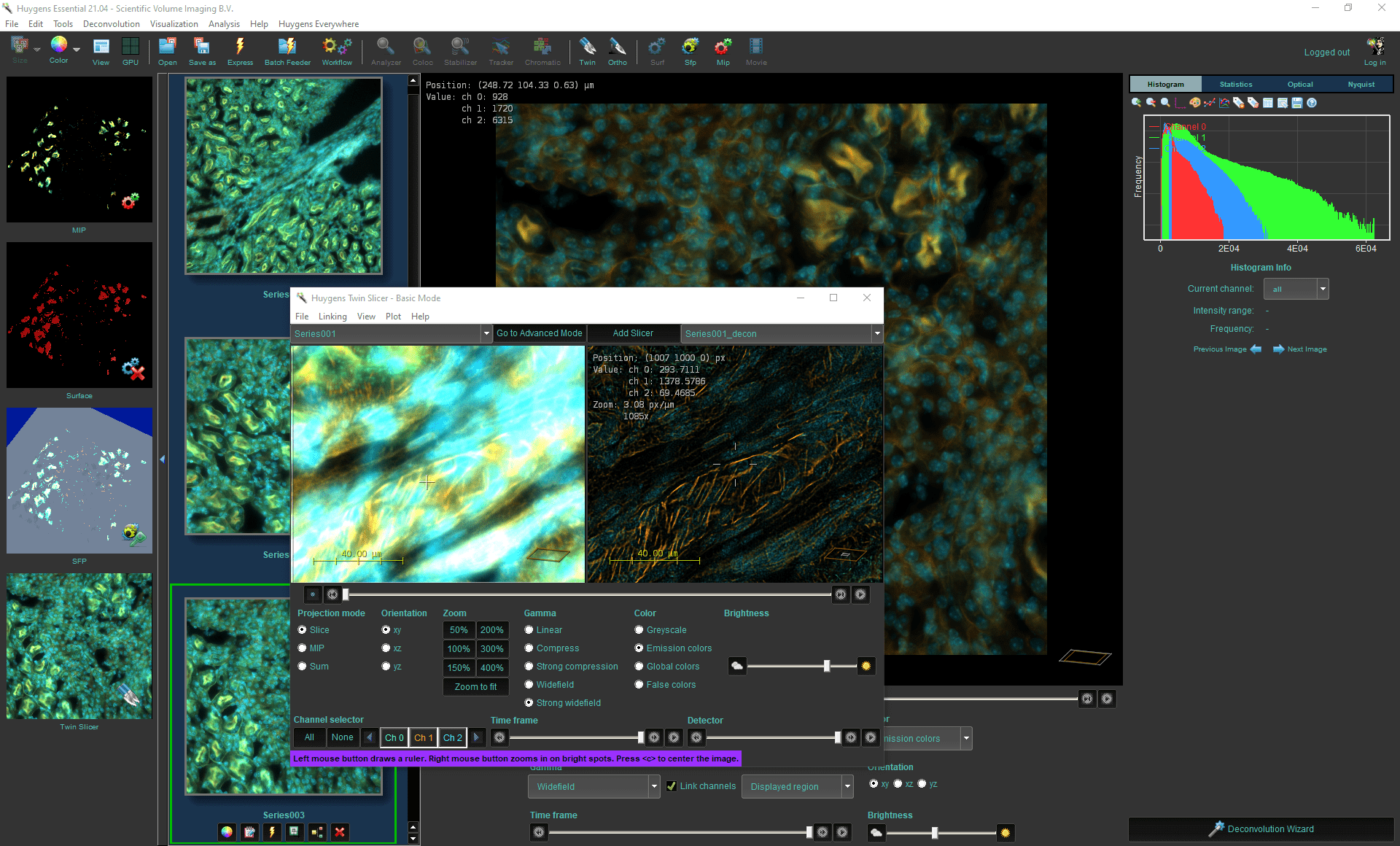 Availability
Our current licenses include:
 
Huygens Essential
Huygens Remote Manager
Modality

Confocal
Spinning Disk
Widefield

Confocal
Spinning Disk
Widefield

File formats
Computing

GPU max cores: 24576
GPU max memory: 64GB
Server type: small

Options

Time series
PSF Measurement
Deconvolution Express
Official website
Link to the product: https://svi.nl/HomePage
---
QuPath
Description
QuPath, short for Quick Pathology, is a free and open-source software package that allows the visualization and analysis of large images from slide scanners and other similar mosaics.
It handles pyramidal files much better than Fiji, and allows for cell detection and classification using machine learning, with in fluorescence and brightfield modalities.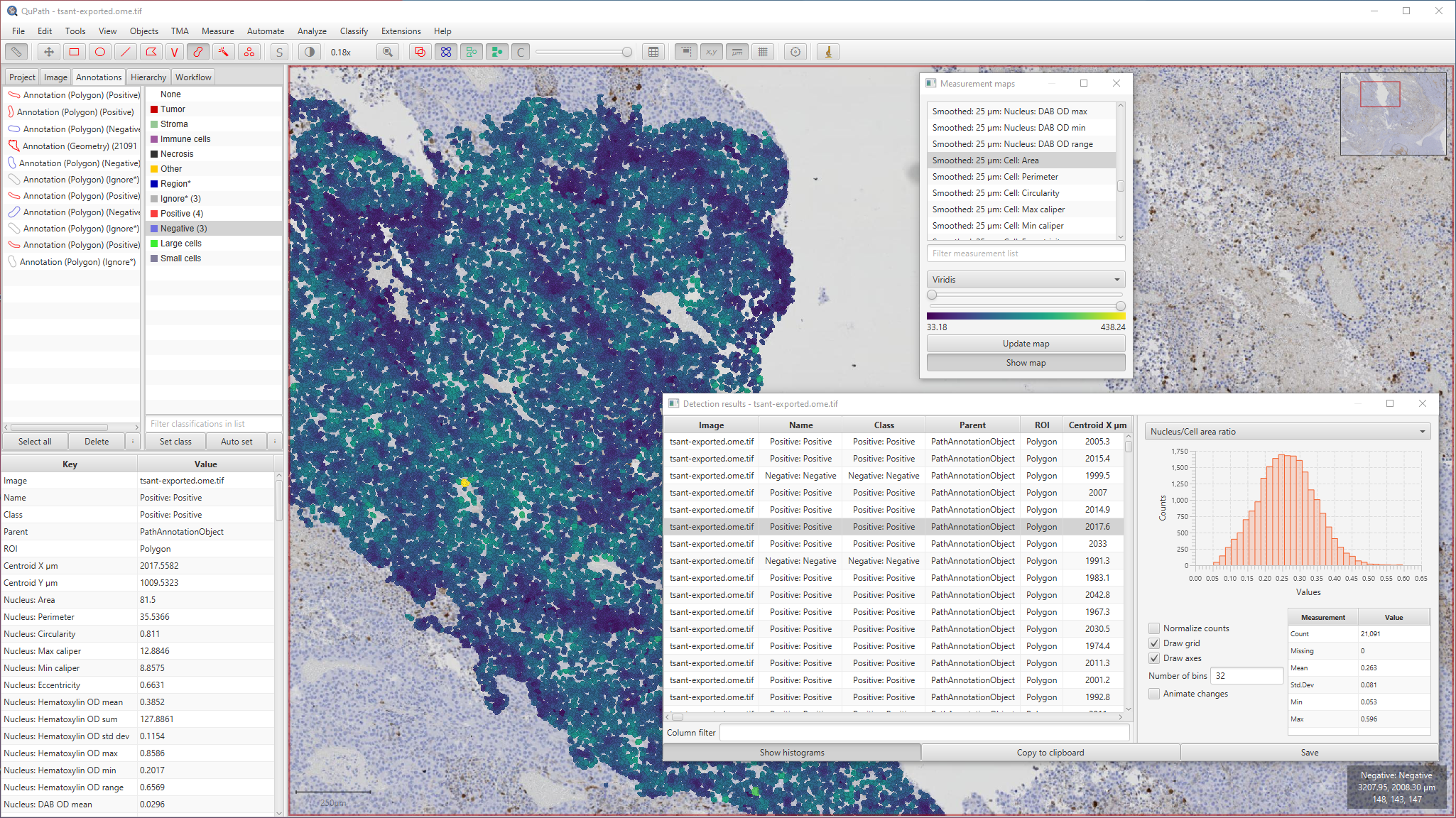 Availability
QuPath is installed on every CIF workstation
Official website
Link to the product: https://qupath.github.io/
---
CellProfiler
Description
CellProfiler is a free image processing and analysis software package that differs from others by focusing on two main features:
Reproducibility by building and sharing processing and analysis pipelines from pre-built modules
Automation by including file and data management in its core, making it the default choice for high throughput imaging and its very large amount of files associated with.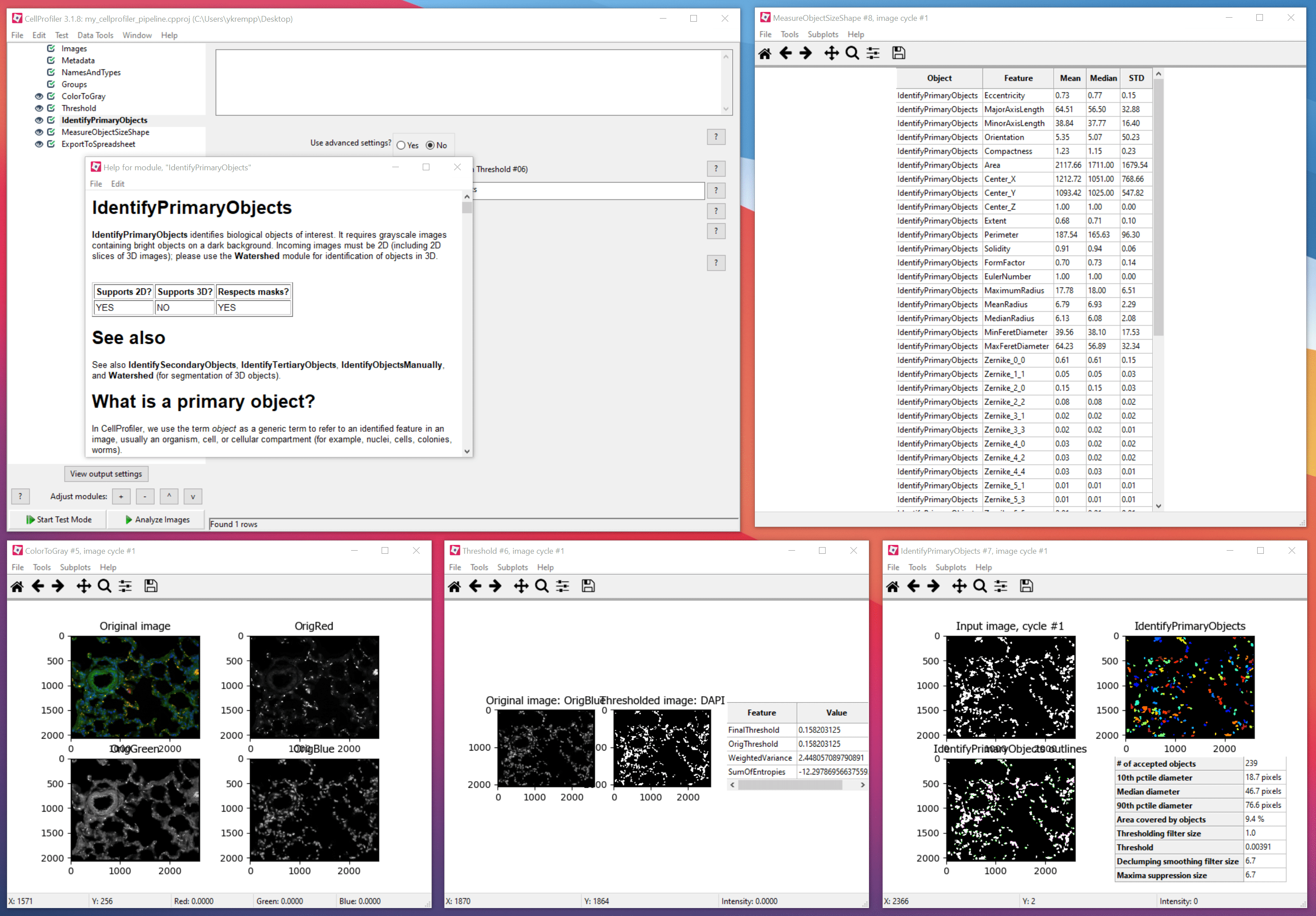 Availability
CellProfiler is installed on select CIF workstations. If you need an instance on a workstation where it is not installed, please contact Yannick Krempp.
Official website
Link to the product: https://cellprofiler.org/
---
Hamamatsu NDP.view 2 and NDP.view2 Plus
Description
NDP.view 2 Plus is the software dedicated to viewing and annotating slides from the Nanozoomeer slide scanner. It can do light image processing (adjustments) and manual analysis like counting cells, draw profiles, create reports …
The free version is limited to .ndpi files and has less features.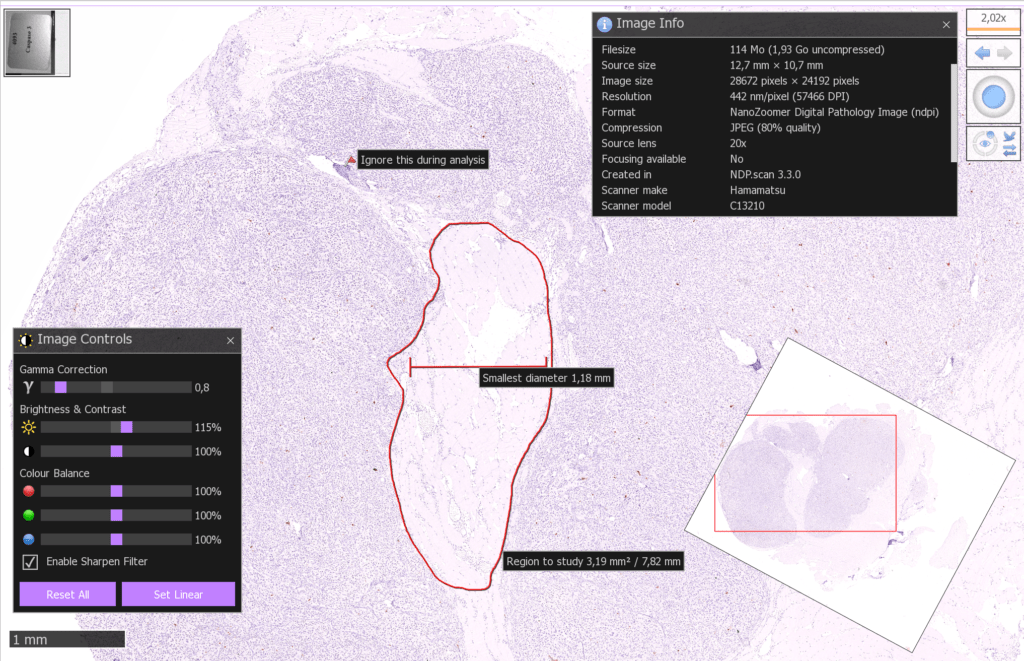 Availability
The nanozoomer slidescanner at the Epalinges site comes with an offline processing workstation with NDP.view 2 Plus installed.
Other workstations in the facility can have NDP.view 2 (free version) installed on request.
Official website
Link to the product page (PDF):